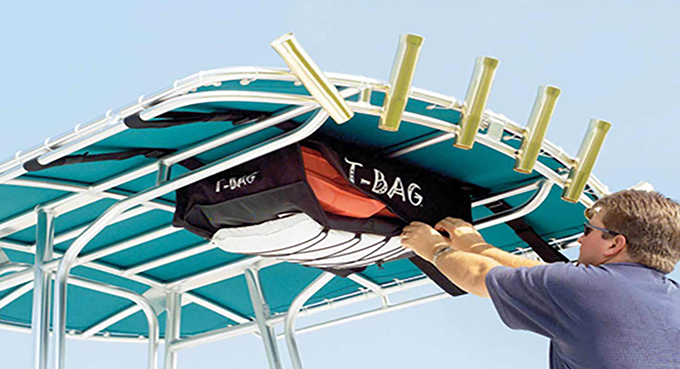 10 Ways to Organize Your Boat Gear for Boating Season
It's time to get your vessel ready for a fun-filled boating season! Here are 10 ways to organize your boat gear onboard to ensure smooth sailing.
Boatmate's Cruisin' Caddy is an easy-to-mount organizer that holds your favorite beverage, personal items and even a couple of your favorite lures. Mounts either vertically or on a flat surface.
Use Ronstan's Line Hangers all over the boat for organizing line, halyards, or even clothes and towels.
West Marine's 60″ Gear Hammock provides easy access and keeps your items from rolling around the boat.
Blue Performance has an entire line-up of waterproof, mildew, and UV resistant bags for all of your storage needs,
5. Keep life jackets organized and easy to access with Airhead T-Bag Storage Pack
The Airhead T-Bag Storage Pack allows easy access to life jackets while on the water with an additional stretch cord that offers another place to store items such as towels. Constructed from UV resistant and water resistant polyester making it durable and long-lasting in all weather conditions.
Boatmate's Trash Stasher mounts on any smooth surface with three suction cups or can be permanently mounted with screws. Holds standard grocery bags or plastic kitchen bags.
Wrap-it Storage Quick Strap Cord Organizers are quick and easy to use hook and loop straps for wrapping up and organizing cords, hoses, rope, and so much more! They are marine grade and made with polypropylene to stand up to adverse weather and marine environments.
Rigid buckets can be a hassle to store onboard. Not so with Camco Collapsible Buckets! The 3-Gallon Bucket stands 9 1/4″H when deployed, just 2″H collapsed and stows neatly in the included storage bag. With comfortable carry handles and rectangular stainless steel/plastic frame, the 5-Gallon Bucket easily accepts a deck brush.
The NITE IZE RunOff™ Waterproof Packing Cube keeps water out, seals messes in, and keeps you organized on the go, making it perfect for being on the water. This packing cube saves space by doubling as a compression bag, allowing it to compress bulky items, like jackets, towels, blankets, and clothing.
Boatmate's Super Suction Cup Utility Hooks mount in cockpit, cabin or flybridge. Super Suction hook holds lines, leaders, hats, towels, wet swimsuits or other clothing.
West Marine at Herrington Harbour North is open Monday-Friday from 8 am – 7 pm, Saturday 8 am – 6 pm, and Sunday 9 am – 6 pm.